Tuesday, September 28, 2004
LAITY REPORT: September 28, 2004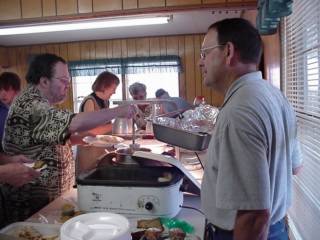 LAY LEADER JOHN FUTRAL IS A MAN OF MANY TALENTS. HE ALSO CHAIRS TINNEY CHAPEL MEN, AND IS SHOWN HERE (ABOVE RIGHT) IN ONE OF HIS MOST RECOGNIZABLE POSITIONS: THAT OF SERVING OTHERS. IN THIS CASE, JOHN IS SERVING HUNGRY VISITORS AT A SPECIAL TINNEY CHAPEL UMC MEAL WHICH HE ALSO HELPED COOK. JOHN'S LAITY REPORT FOR THE YEAR 2004 IS REPRODUCED BELOW.
Photo by Angela Wylie.

Tinney Chapel United Methodist Church Laity Report, 2004
By John Futral,

Lay Leader



The congregation at Tinney Chapel United Methodist Church submits this laity report to the Charge Conference for 2004. The church is a strong, vibrant and integral part of our community. Aided by Pastor Duncan Graham, and Bro. Gene Miller, our associate pastor, the laity have carried forth the work of Christ to the best of our ability through worship, evangelism, missions and nurture.

WORSHIP

At present we are implementing a combined worship service blending contemporary praise and worship music into a traditional worship service. Our choir continues to offer special music on a regular basis and seasonal cantatas. Average worship attendance is 85.
New members who joined during the last year are Clay Spears, David Reeves, Peggy Boyd, Charles Brewer, Jeremy and Heidi Crow, Emmaline Hallman, Linda and Matthew Hallman, Judy Spears, Bill and Elaine Knoop, Glen and Fanella Wood, L.R. and Linda Kemp, Linda and Sharon Carter, Harold Lenius and Marilyn Stokley.
Those that have been on the Walk to Emmaus still encourage others to experience what they have experienced. Those participating this year were Frankie Brewer, Alice Deitering, Mary Marrs, Linda Stevens and Bob Deitering.

Other ways we have encouraged people to enhance their Christian journey is by hosting a Disciple One Class led by David Stanton and Joe Dan Boyd.

EVANGELISM

Evangelism is very often an individual effort.
When we have visitors, we try to show hospitality, and present first-time visitors a Tinney Chapel imprinted coffee mug with the Methodist logo, the cross and the flame, to remind them to visit again. Bro. Gene Miller visits within the first week of their attending worship service.
Sunday School is well attended in our four adult classes with plans for another Sunday School class in the making. A women's class was recently started with Peggy Boyd as leader and Bill Knoop will soon be leading a class for men. We also offer classes for children and youth.
We sponsored a Bring-A-Friend Sunday again this year.
We provide occasional news items and weekly paid advertisements to the local newspaper, and one of our members, Joe Dan Boyd, is Chair of the Conference Communications Commission. Through Joe Dan's efforts, each household registered through the church receives a very concise weekly E-Letter recapping worship service and announcements.
Recently, Tinney Chapel Communications launched a new Weblog (blog) service for our church, which is updated several times each week, and may be viewed on the Internet at
http://tinneychapeltoday.blogspot.com/
In addition, a talented, dedicated staff of volunteers, headed by Zonnie Griffin, produces a monthly Tinney Chapel Newsletter.
Arvinell Newton McClaren's book, "

Going to the Chapel

" which won the Kate Warnick award for

Best Church Story at Annual Conference

, recaps early church history and informs readers interested in our first one hundred years.
Some side port events include concerts by Johnsmith, Lynn Adler and Lindy Hearne, and singer/storyteller David Clark. Rural Life Sunday is always well attended and allows us to revisit our early church heritage.


MISSIONS

Our church makes regular and substantial contributions to support the ministries of Way of Salvation UMC in Mytichchi, Russia, and Henry & Josie Zaragosa in Mexico with their NEW HOPE ministry.
Canned goods and money are gathered for community ministries. The congregation has helped families with clothing, food and money. Some individuals help local missionaries in foreign fields.
Our Ladies Group, with 25 active members, made special contributions to Winnsboro Community Ministries, Northeast Texas Child Advocacy Center, Holy Highways Girls Home, Safe T House for Women, Samaritan's Purse, Methodist Home in Waco, local nursing homes and funded several in-house mission projects. The Ladies Group recently visited the Methodist Home in Waco.
Some of the mission projects in which the congregation participated with particular enthusiasm were:
1. Blessings of Blankets to a local outreach organization
2. Collecting Fans to be distributed for summertime relief
3. Pennies collected for local Meals on Wheels
4. Postage stamps and videotapes collected for the Child Advocacy Center
A donation of $500.00 was extended to the construction of a Chapel at the Texas Department of Corrections Johnston Unit.
The pastor has a discretionary fund to help those who have an emergency. The fund comes from money left at the altar rail on Holy Communion Sundays.
Tinney Chapel sends relief funds, along with its delegate, to the target project at each year's North Texas Conference meeting.
The Sunday School classes contribute to emergency needs as well as special offerings.
Individuals also give to Methodist Home, Golden Cross, World Communion, Salvation Army, Visionaries Program and any need brought to our attention.
One month in the year, we provide a birthday party for the three nursing homes in our community. This year, our Ladies Group provided game prizes for nursing home residents.
One of our members, who taught weekly Sunday School classes for a year at one of the local nursing homes, also conducted a monthly program of devotionals and music at that facility for much of the past year.
Some from our congregation help with the REC (Residents Encounter Christ) program at the Johnston Substance Abuse Facility each year.
Our most recent act of "reaching out" to our immediate community involves the establishment of a Mother's Day Out program targeted for 3-5 year olds. This effort was conceived and implemented by Heidi Crow and Sadie Jordan and it is due to their efforts that additional young families are becoming familiar with Tinney Chapel.
Cypress Basin Hospice, based in Mt. Pleasant, asked permission and is currently using our facilities to conduct training classes for their local volunteers.


PHYSICAL CHANGES



This year's physical changes have been the largest for us in over 100 years with the addition of an 8,000-square-ft. building which includes a new fellowship hall with a stage area, six classrooms, multiple restrooms, a conference room, kitchen and storage.
Remodeling has been done in the north Sunday School wing to enlarge children's classrooms, provide access to the new building and make the existing facilities more "kid friendly" with new paint and murals.



YOUTH & FAMILY ACTIVITIES




Our Youth Group meets every Wednesday night for programs combining fun with special service projects. They are currently working on a fundraiser involving painted rocks, which is representative of the story of David and Goliath. Scripture reference comes from Samuel, who--as you will remember--tells us "the battle is the Lord's". Upcoming events include a cookout, movie night and a trip to see

The Promise

, a drama of the Passion of Christ, in Glen Rose, Texas.
Tinney Chapel Children, a program which has in the past received special commendation for our church, currently meets on Wednesday evenings also. Gabrielle Mattox has done an outstanding job revitalizing the Children's Choir. They have been invited to other churches, and are a true blessing to us as we hear those young voices offering praise to our Lord.
Sunday dinners, stew suppers, pancake breakfasts, ice cream suppers, fish fries, Thanksgiving dinner and Sunday School outings are featured in church family activity.
Tinney Chapel regularly hosts special Christian music concerts.
The Tinney Chapel Ladies Group conducted fund-raising activities during the year, including a Holiday Bazaar,

which is coming up soon on November 6

. In addition, the Ladies Group continues to sell Tinney Chapel cookbooks.
The Tinney Chapel Men's Group, now in its fourth year, has a Saturday morning monthly meeting that includes breakfast. Devotionals, fellowship and fundraiser planning for various church projects are some of their activities. The group hosts an annual fish fry and also a barbeque dinner complete with Cowboy Poetry reading.

This year we renamed that event. It's now The Jim Asbill Barbeque and Cowboy Poetry Gathering in memory of a much loved and missed member of our congregation.

The church continues its traditional fourth Sunday dinner at the Tinney Chapel Fellowship Center.

STEWARDSHIP

God has blessed each of us with unique and important gifts.

Stewardship is a way of life in which we take care of all that is entrusted to us. As stewards of the church, we need to practice careful management of all our possessions and our finances. Thoughtful choices and decision-making are essential to keep us on track with the goals for our church.



This year we have seen growth that has made it necessary to increase our budget – and we have been able to accomplish this with your tithes and offerings. All of this is possible because, as a congregation and as individuals, we are making a conscious effort to practice good stewardship. And most importantly – WE ARE SUCCEEDING.





Thanks to all of you for making these dreams a reality and for being such generous stewards of your prayers, your presence, your gifts and your service.




OTHERS

Individual members have visited hospitals and homes, planted shrubs and flowers in the churchyard, cleaned the church and decorated the sanctuary for Christmas.
They have also ushered, served as greeters, made coffee and cookies for our fellowship time, prepared and helped serve Holy Communion, taught Sunday School, played the piano, led singing and directed choirs.
In addition, they have provided food and flowers for those who have lost loved ones, sent out birthday cards, hosted wedding and baby showers and held fellowship suppers.
Church leaders have gone to district and conference training events and laity celebrations.


In closing…



The year, 2004 has been another very eventful one in the life of Tinney Chapel UMC. After being presented the Marvin T. Judy award for the 2nd time, I hope everyone will feel that it is our honor and responsibility to set the standard each year for whoever is presented this prestigious award.
A lot of blood, sweat and tears as well as joy went into making '04 eventful, but the reality is that '04 will soon be history. So I challenge each of us to make 2005 even more eventful.

Respectfully submitted,

John Futral, Lay Leader

CHARGE CONFERENCE: Sept. 28, 2004
Sunday, September 26, 2004
TODAY: Rural Life Sunday, September 26, 2004
Saturday, September 25, 2004
Rev. Fred Durham's Frog Kissing Sermon
Friday, September 24, 2004
Rev. Joan LaBarr's Quilt of Life Sermon
Tuesday, September 21, 2004
The Day, The Dish And The Diorama
Sunday, September 19, 2004
The quintessential kids choir: 9-19-04
Tuesday, September 14, 2004
Bishop Moncure: New Leader of our Conference
Sunday, September 12, 2004
A Special Place For Special Bibles